More and more brides are opting to have super-fun BBQ dinners for their wedding receptions.  Casual is what Sedona's all about and brides are really taking advantage of it.  Big Foot Barbecue has a wide selection of savory cuisine to please every palette.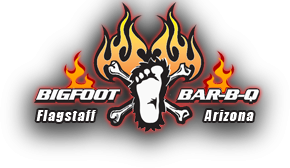 Stop by the Bigfoot Barbecue booth and meet J. Carnes.  J. will fix you up with his mouth-watering selections.  He will give you all the details and complete menus for your consideration.
Big Foot Barbecue was one of the most popular catering booths last year.  Stop by their table and you will find out why!